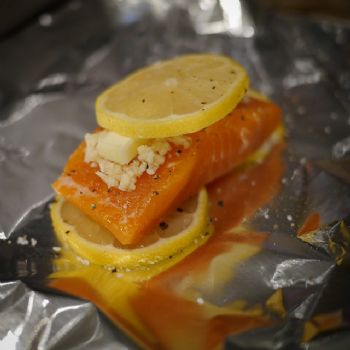 It's a small portion of Salmon (3oz.) sitting on lemon slices, topped with salt, pepper, a clove of minced garlic and 1/4 Tbs. unsalted butter topped with another lemon slice. I did NOT close the foil but left it open and baked it at 400 till done which was about 12 min. Here's how it came out of the oven!!!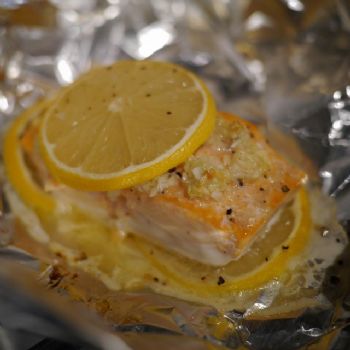 Then we "grilled" in our cast iron grill skillet some rosemary asparagus like my Dad makes and added them.
It's super easy to make the Rosemary Asparagus just toss with a tiny bit of oil and then season to taste with salt, pepper, and hubby likes to add some dried rosemary and McCormick Perfect Pinch Sweet Onion & Herb. Though you could do any variation of herbs/spices you like. You could also keep it simple and just do the salt/pepper/rosemary and fresh rosemary instead of dried is easy too you just use less to taste. It's just nice to use the cast iron grill pan to get the blackened grilled taste from it, but I'm sure it would be great simply roasted too.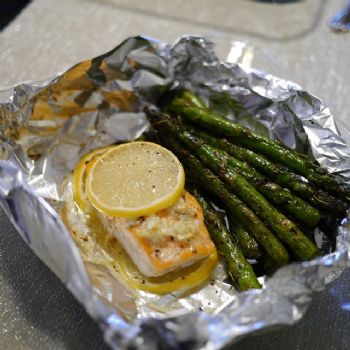 WOW was it so good and the total Cals. for this very light lunch was about 210!!! That makes it pretty easy to add maybe some sort of grain as well like Quinoa, Farro, Rice, or Couscous. But for yesterday I kept it just like this to give me more smaller snacks/meals throughout the day.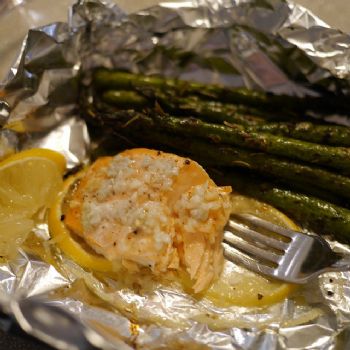 Not sure if you can see from the photo, but it was so tender and juicy and it was more than enough butter in fact I would use that amount for a larger piece next time. The butter, lemon, and garlic created a sauce that was just spectacular! It's crave worthy! It tasted like something you'd expect from a 4 Star Restaurant! Add a bottle of Mumm's Cordon Rouge Champagne (which is light bubbly and lemony) and you'd have a very special dinner!
Update: I've made this Salmon several times now and I use 1-2 Cloves of Garlic each piece of Salmon and typically they are 4oz. and I use 5g of butter dotted on top. Don't forget to salt and pepper them and use as much thinly sliced lemon as will cover the bottom of the Salmon.