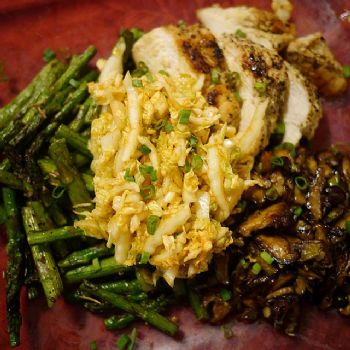 Last week we made our own variation of the Top Chef Winner's Blue Apron Recipe! We just LOVE that quick Kimchi!
https://www.blueapron.co
m/recipes/seared-chicken-t
highs-kimchi-with-braised-
lettuce-maitake-mushrooms
We used the recipe for the Top Chef Winner Meal, used 4 cloves garlic instead of the amount they say, and followed the recipe for the Kimchi but I used Hot Hungarian Paprika and it tasted the same as the Korean Chili.
We made our grill pan asparagus as always (heat a cast-iron grill pan till hot, spray with high heat Pam and add the asparagus -1 bundle woody parts snapped off, cut, tossed in 1/2 teaspoon olive oil, sprinkled with McCormik's Sweet Onion and Herb Seasoning, salt & pepper, rosemary- cook stirring occasionally tenting with aluminum foil till tender) and hubby made the boneless skinless chicken breast in the skillet so we can get the fond in the bottom of the pan. (Add 1/2-1 Tsp. Olive Oil heat on medium high till hot add chicken loosely cover with aluminum foil to keep in heat and let out steam for 3 minutes and 30 seconds, flip recover and cook for a second 3 minutes and 30 seconds (or until cooked through that time is usually perfection for us). Remove from pan and let chicken rest on a warmed plate covered with aluminum foil for at about 5 minutes.
When you take the chicken out to rest we added another teaspoon or 2 of oil and I added 2 of those small boxes of pre sliced shiitake mushrooms and cooked them until goldenly scrumptious then I added the rest of the white bottoms of the scallions, garlic, ginger. Then after they were fragrant I added 1/2 cup water, 1 tsp. Korr Reduced Sodium Reduced Stock and 1/2 Tbs. unsalted butter. Cook until combined and it tightens up.