Here's the Original Blue Apron Recipe:
https://www.blueapron.co
m/recipes/catfish-with-kum
quat-chili-basil-glaze-wat
ercress-cracked-freekeh
We wanted to make this recipe but didn't want to get the shipment that week so we had to set out to gather ingredients and I was fully prepared to substitute Farro which we have in our pantry for the Freekeh but we just so happened to stop by a Sprouts and find some Cracked Freekeh there and bought some!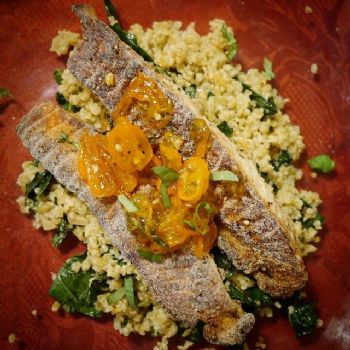 For some reason the Kumquats were hard for us to find too and they just so happened to also have them at the Sprouts we stopped at. That store is not nearby us so it was on a day trip outing that we stopped by there like we usually do when out that way. The bad news was by the time we found the Kumquats there was no good catfish so we substituted Tilapia instead. I also just used our Rice Flour instead of Instant Flour because we already know it works perfectly and we have it. We also had to substitute a Serrano Pepper for the Bird's Eye because we couldn't find any and just needed one to add heat and boy did it add heat!!! I would do half a chili next time! OH and I also simply used less Freekeh than called for the recipe asks for 3 servings and I just cut it down to 2 instead and it was just as awesome. Sometimes the Blue Apron Recipes can have Portion Distortion but I've read comments on recipes of people complaining the portions are too small and I'm like REALLY??? LOL So I think they try to give people bigger amounts because of all the complaints...OY! Like one time I saw people complaining over a 4 Ounce Salmon Portion and I'm like if you look it up that IS 1 portion and what they thought of as 1 portion was in fact 2 portions!!! So a lot of things I tweak in all kinds of recipes is some of the ratios to make a better portion size. We also used an actual portion of Tilapia and not a whole giant filet.
When we were eating this the Kumquat Glaze was fantastic!!! I mean it was spicy, sweet, citrusy and just all around wonderful! The taste reminded us of Orange Chicken...which lead me down the road of creative thinking to come up with other ways to use it! The cool thing about having bought the Kumquats is we only used a small amount of the little box of them so we had more to use up! So here come the Spinoffs!!!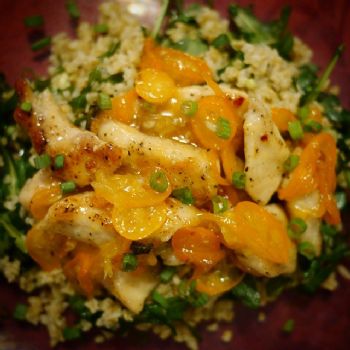 Sweet and Spicy Kumquat Glazed Chicken with Garlic Cracked Freekeh and Wilted Baby Arugula!
This time instead of using a fresh chili, since we used the last one and didn't have anymore as well, we used a little bit of Crushed Red Pepper and it was perfect!!! It might have been about 1/8-1/4 tsp. of the Crushed Red Pepper, it just depends on how spicy you like it and how much heat your crushed red pepper has!!! LOL
We cut the chicken breast into pieces and cooked them up leaving the fond in the pan. Then when they went to rest we made the glaze in the pan to use the fond with it. Then we tossed the chicken back into the glaze when done.
For the Freekeh we cooked 2 servings as per the directions then drained and rinsed it then returned it to the pan and added some sauteed garlic with the bit of olive oil it was cooked in, the white parts of a couple scallions, and a large handful of baby arugula. Added salt and pepper to taste and set it aside for the arugula to wilt while we finished up the chicken and glaze.
To plate we split the Freekeh and topped it with our Kumquat Glazed Chicken and sprinkled the green parts of the scallions on top! Oh it was SO GOOD! We will make this again for sure! We are even dreaming of making this with oranges too, it was so easy to make the glaze that if we had known how easy it was a long time ago we would have made something like this back then! The neat thing about the Cracked Freekeh is it's texture is a lot like rice, but really you could use any grain you wish from rice, farro, quinoa, to even couscous or cauliflower "rice"! I just love how interchangeable things can be and it makes it fun and a creative thing for me to play with!
Last Spinoff coming up!!!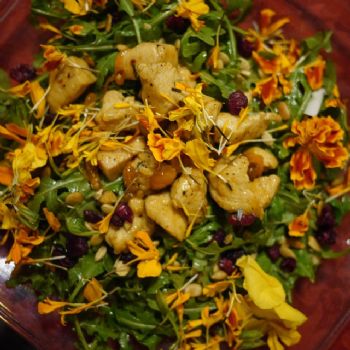 Sweet and Spicy Kumquat Glazed Chicken over Baby Arugula!!!
The Baby Arugula (1 box or bag) is dressed in Trader Joe's Orange Muscat Champagne Vinegar (2tsp), Olive Oil (2tsp), Salt and Pepper whisked together and tossed to coat. To plate we split the Dressed Baby Arugula between two plates topped it with half the Kumquat Glazed Chicken, then sprinkled the Pepitas (8g per person), Reduced Sugar Craisins (10g per person) and Edible Flowers on top which was mostly marigolds that just so happen to pair wonderfully with the kumquats! Of course the citrusy vinaigrette went perfect with the citrusy glaze!
When we were at Sprouts I had seen Edible Flowers in the section with the little herb boxes so I grabbed some!!! I've eaten some flowers before like pansies and violas and they pretty much taste like lettuce so I didn't have a fear of using flowers. But I've never tried a marigolds before and I was a little scared of them but I cut the large ones in half and then they kinda fell apart but it worked out because they sprinkled nicely over everything. I was the most surprised that the flavor of the marigolds went so well with the kumquat glaze, it really was wonderful! And FUN!