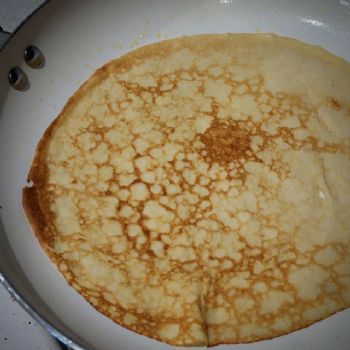 I am in love with getting the best nutrition and taste for the calories so I'm always on the lookout to try new things and maybe old things I love made in new ways! I found a recipe for Paleo Pancakes which I call Coconut Banana Pancakes or Crepes! Why focus on the method when the focus should be on flavor...if they taste amazing then anyone can make and eat them not just those looking for a certain "diet". This is the way I look at food, not as a diet but as simply FOOD! And what's better than amazing food that gives you amazing nutrition at the same time!!! YEAH!!! That's what I'm talking about!!!
I tweaked a recipe I found on Pinterest to suit me better. Here's the link:
www.aspicyperspective.co
m/2014/02/paleo-pancakes.html
Of course I made a WAY smaller amount dividing it into thirds and changed a few things and cooked it different ways. I replaced the whole eggs with egg whites.
So my recipe is:
1 Banana
4 Servings (184g) Egg Whites
2 Tbs. (14g) Coconut Flour
*Optional I added a tad of Imitation Coconut Flavoring and another time I also added a bit of Vanilla. I love the enhanced flavor of adding those.
Just blend it all up, I used a single serve blender cup like for smoothies.
To Cook:
~One of the biggest tips is that you have to spray your best nonstick pan well (I used Butter Pam Cooking Spray) and when you go to flip spray it again, because of the high protein level it can stick really easy (like fish lol)!
~Also you have to let them cook completely through before trying to flip them, you want the top dry not wet or they will fall apart on you. The easiest way to find out if you can't tell visually is to touch it lightly. One thing that I tend to do to speed this along without one side getting too dark is to slap a lid on it to trap in heat! LOL
~Another tip is when I stack the finished Pancakes or Crepes I do so on a warm plate lined with a paper towel and add a paper towel between each layer that way any excess oil and moisture gets pulled away from them and they don't get ruined while waiting.
For Pancakes like the original recipe, you let it stay thicker when you pour them into place. It takes longer for them to cook this way too so you gave to get your heat just right. As pancakes I like to make this a single serving because I feel like I'm getting a ton, but I could make them 2 servings of pancakes as well. I just use some Sugar Free Maple Syrup and enjoy every bite! You can top with anything you want really!
For Crepes like I have pictured! Which I think it is my favorite way to make them! The only difference is instead of letting them pool up you make sure to swirl the batter like all crepes require to make a nice thin layer in the pan. I love that it cooks a little faster and it seems the longer you cook them the better the texture is since it evaporates all the extra moisture. Make sure they are good and cooked before attempting to flip, if they are too soft they will fall apart and make a mess! So be patient and gentle!
Making them as Crepes it made 4 medium pan sized Crepes which I made a serving be 2 Crepes since they will have a filling.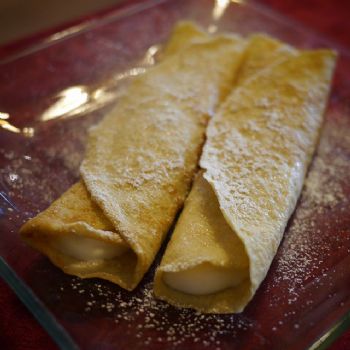 For the filling as pictured I used Oikos Toasted Coconut Vanilla Greek Yogurt (the full fat one) and dusted them with 1/2 teaspoon Powdered Sugar!
I could imagine all kinds of variations of Greek Yogurt including my own fave flavors made from Plain 2% Fage! Also I could see mixing Greek Yogurt with Cream Cheese for a nice filling as well. Then you could add any fruit you wanted, fresh or cooked down somehow. Your imagination and taste preference is the limit!
I also dusted them with 1/2 teaspoon powdered sugar. It only added 5 calories and it's so pretty and fun...why not! It makes me happy!
Here's a photo of them as pancakes with a homemade trial raspberry syrup (needs perfecting):